Remember to use your reusable bags, reduce marine debris and litter

Upcoming Events
Earth Day at
Bahia Honda
MM37
April 20, 2013
PLEASE ENCOURAGE YOUR FRIENDS AND NEIGHBORS TO ATTEND ONE OF OUR EVENTS TO GET THEIR FREE BAG AND MAKE THE PLEDGE!
Founding Sponsors

Deb Curlee
Keys GLEE

A portion of the proceeds from purchases on TheRecycleBag.com to benefit the Got Your Bags progam.

Got Your Bags Florida Keys
News- March 2013
Dear Friend,
Thank you for your participation in the Got Your Bags Florida Keys program. This newsletter is an update to our volunteers and residents who are working together to make this campaign a success.
Plastic Bag Bill Announced
GREAT NEWS! A PLASTIC BAG BILL IN TALLAHASSEE, FLORIDA
February 8th, 2013: Senator Dwight Bullard and Rep.Kione McGhee have filed a Plastic Bag Bill. The bill was written by Fausto Gomez who represents a community in the Miami-Dade area. Here is the link to Sen. Bullard's Plastic bags bill:
http://flsenate.gov/Session/Bill/2013/0722
In Summary:
The Bill proposes to give local governments/municipalities the option to adopt the Bill provisions by a local ordinance - it is not mandatory across the state. Participating Stores would be affected by this ordinance if their local government adopts this which means DISPOSABLE PLASTIC BAGS PROHIBITED-A participating store may not provide to a customer a disposable plastic bag. Customers can use their own bags in the store or, reusable paper bags may be dispensed for a fee of which 50% of the fee is distributed to the local school district, 50% back to the store.

As a State-wide bill it gives each local municipality the option to adopt these provisions based on the will of their local communities. This is a very practical approach and realistically we know that will take some time to become accepted State-wide. In the meantime, the idea that such a bill may exist gives groups like Got Your Bags? Florida Keys the motivation to keep with our campaign on plastic bag reduction.

Contact Information:

If you support this effort, please EMAIL, CALL OR WRITE Senator Bullard AND THANK HIM FOR HIS BILL AND LET HIM KNOW YOU ARE BEHIND HIM. His contact info is: bullard.dwight.web@Flsenate.gov
District Office:
10720 Caribbean Blvd. Suite 435
Cutler Bay, FL 33189
Call:(305) 234-2208
Senate VOIP: 43900
FAX:(305) 234-2210
PLEASE SHARE THIS WITH OTHERS WHO MAY BE INTERESTED.
Who Has Take The Pledge
Since our January newsletter, these additional businesses have taken the pledge to reduce the use of plastic bags.
Ace Hardware of Big Pine Key, Inc.
Bank of Amerca Big Pine Key
Big Pine Storage
CVS Big Pine Key
DRN Moving
Edward Jones Financial Services: Leslie Valant
Key West Key Lime Pie Factory
NAPA Big Pine Key
Smart Phone Hospital
Walton's Pet Store
Our First Pledge Point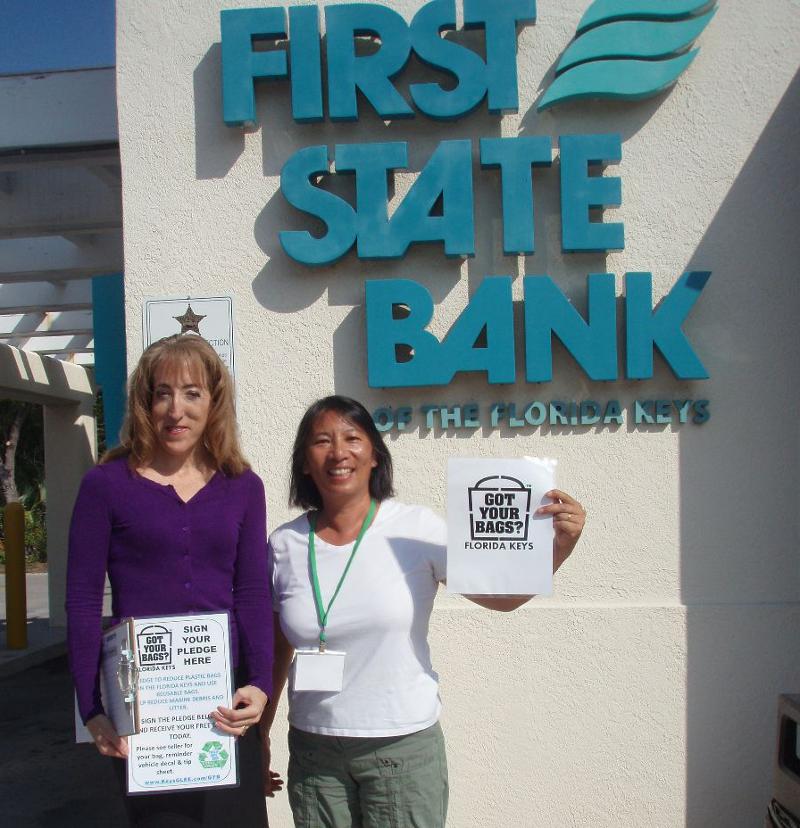 First State Bank of the Florida Keys Big Pine Key location is now an official location for residents to sign a pledge for the Got Your Bags? Campaign. Located at 30515 Overseas Highway, Big Pine Key, residents can visit this branch to sign their pledge to reduce plastic bag usage ad receiva a complimentary reusable bag. Bags are donated by Save-A-Turtle and First State Bank. First State Bank teller and green team captain Velvet Malloy (left) with Shirley Gun, "Got Your Bags?" Program.
FAVOR Shows Their Support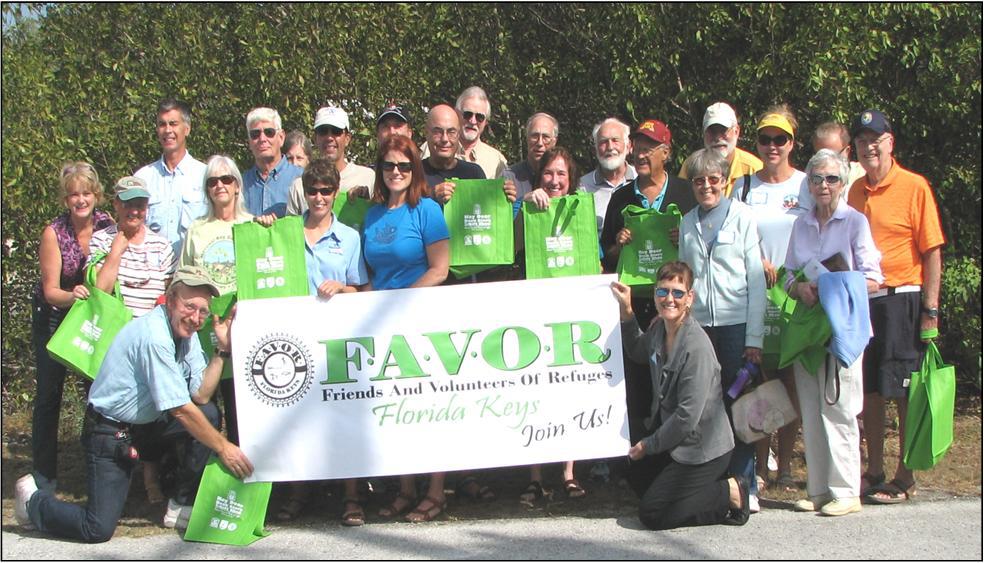 February 12, 2013: FAVOR (Friends And Volunteers of Refuges Florida Keys) supports "Got Your Bags?" Florida Keys with a new supply of bags sporting the "Got Your Bags?" Florida Keys logo. These bags are available in the Key Deer Visitor center bookstore on Key Deer Boulevard, Big Pine Key. They also made a generous donation of bags to "Got Your Bags?" Florida Keys. Bags were purchased from TheRecycleBag.com, who donated back $100 to the GYB campaign.
Centennial Bank Shows Their Support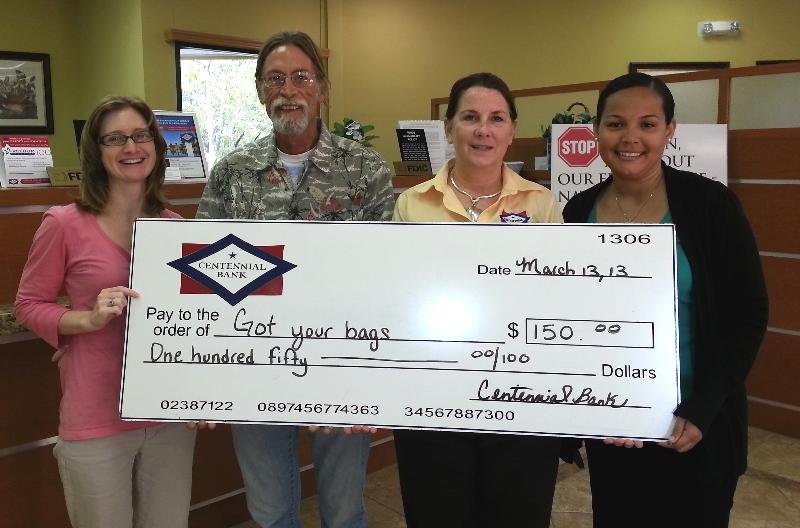 Centennial Bank adds support to the Got your Bags campaign with a donation of $150.00. Pictured left to right: Ashley Todd,
Ken Chopcinski, Sheila Cantler and Jessica Lugo
Related Articles and Links
2008 Video Plastic bags..."The Harsh Facts"- This is a photo slideshow depicting the danger of plastic bags worldwide......and what you can do to reduce this growing problem to our environment
June 2009 Article from Mother Jones "Do Biodegradable Plastics really work?" by Dave Gilson
2010 Video - The Majestic Plastic Bag - A Mockumentary, Narrated by Academy Award-winner Jeremy Irons, this "mockumentary" video, hammers home the stark reality of California's (and the nation's) plastic bag pollution situation.
July 2010 Article Can reusable grocery bags make you sick or is that just baloney? - published on Consumerreports.org. Read this sensible answer to this question.
06/02/2012 Video "LA Bans The Plastic Bag" Interviews by Reason.TV. Plastic bags: faithful transporters of groceries, liners of wastebaskets, pickers-up of dog crap and inspirers of late nineties Hollywood screenwriters, now banned from grocery stores by the Los Angeles City Council.. Council members stood by the ban, despite being confronted with evidence that bag bans have no discernible effect on the health of the environment and make up less than 1 percent of California's waste stream.
06/07/2012 Story from Wild Things: From Shore to Sea "Sperm whale: death by 100 plastic bags" by Carolyn Kraft
Fall 2012 Story from WildHope Digital Magazine "Our Plastic Century" by Dr. Wallace J. Nichols
12/1/2012 Story from Island Jane Magazine "Are You a Bag Lady?" by Dolly Garlo
12/8/2012 Article from Keynoter Newspaper "For gifts, give what sustains" by Shirley Gun
12/18/2012 Story on http://plasticbagbanreport.com/ titled "Got Your Bags - Florida Keys" by Leigh Anne Schuler
01/10/2013 Got Your Bags Florida Keys January 2013 Newsletter
02/14/2013 Love the Beach? Please declare your Love for your beach by taking and keeping this simple MyBeach pledge our friends at Surfrider Foundation set up.
Implement Got Your Bags? In Your Community
Implementing the "Got Your Bags? Florida Keys" program in Big Pine Key has been an exciting and interesting experience for us. We have learned a lot and hope that others may be motivated in implementing something similar in their local Keys community or in other parts of the country.
So that you can get up to speed faster than we did, and without reinventing the wheel, our program material is available for download.
We hope that other Florida Keys communities will utilize our "branded" name "Got Your Bags? Florida Keys" (which actually connects to a larger national community) and logo.
For communities outside of the Keys, the materials should help to get you started and you can create a program identity that matches your location.
Please let us know when your campaign starts and we will be pleased to list you as a Community Partner on our webpage.
The materials in the Kit are in Microsoft Word, Publisher or Powerpoint, except for the mp3 recording of the PSA that is currently running on US1 FM104.1 Radio in the Florida Keys..
VOLUNTEERS NEEDED

We need volunteers to help at our various events and activities. We need help for an hour or two at each of our booths to hand out bags and get people signed up to "Take The Pledge!" If you can help out, please email us back and let us know which event date and what time you can help.
We can all do our part every time we shop. Make a point at the cashiers counter that you have brought your own bags. Ask them if they are with the "Got Your Bags" program. All the businesses that have already pledged have logo stickers on their storefront or doors. Patronize them and keep the campaign alive.
Thank you,
Ken Chopcinski
Chair